Building Of The Month - July 2016 - Parknasillogue Court
This is a brilliantly planned local authority development of 25 houses, one of the best in Ireland – at least from an architectural perspective. But architecture alone is not enough. Yes, it can help improve the quality of life, but there are limits to the fairy dust it can scatter on society and its citizens. Even a wonderful site behind a mature hedgerow with views of the sea and the Sugarloaf Mountain may not be enough if it is in the wrong place. The oldest property maxim – location, location, location – is an iron rule.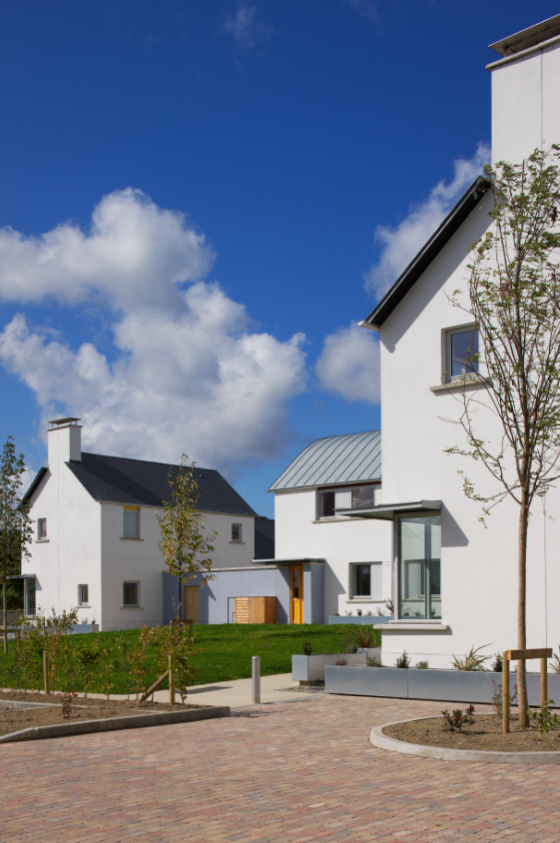 Patrick Shaffrey, the great champion of the Irish town noted as much when he reviewed Parknasillogue for Architecture Ireland soon after completion: 'Unfortunately the scheme is located some distance from the centre of Enniskerry, with its shops, schools, library and other community facilities, and along a busy road. It is disappointing that Wicklow County Council should still be continuing with long-discarded policies of pushing social housing out in 'the sticks'.'
Seán Harrington agrees. 'The site is a mile from the village. It may have been the only publicly affordable site, but you are inevitably ghettoising a community that you are trying to establish from scratch off the housing list. I'm a socialist,' he says. 'I believe you should try to make life better. I can only do it in architecture. Sadly, because Finance is in charge of procurement, all the focus is on numbers of units, not the society we are creating. The model promotes big schemes on flat sites out of town. There is no vision for a better society.'
Harrington's design is based on the clachán principle of traditional farmyard clusters, with a contemporary interpretation of vernacular building details. This is no mean achievement, given the open space standards that applied to the development – 80m2 public open space per dwelling and an average of 60m2 for each back garden. 'One thing I have learned over the years is the importance of place-making in housing developments – streets, squares, playgrounds, corners,' he says. 'The places between buildings are the most important thing. The buildings themselves are backdrops.'
Harrington's key move was to persuade the local authority to accept an alternative standard for the intimate road and footpaths layout – British Design Bulletin 32, which aims to slow down traffic and cater equally for pedestrians and other road users. Car parking is close to and within sight of each home, but not necessarily on curtilage.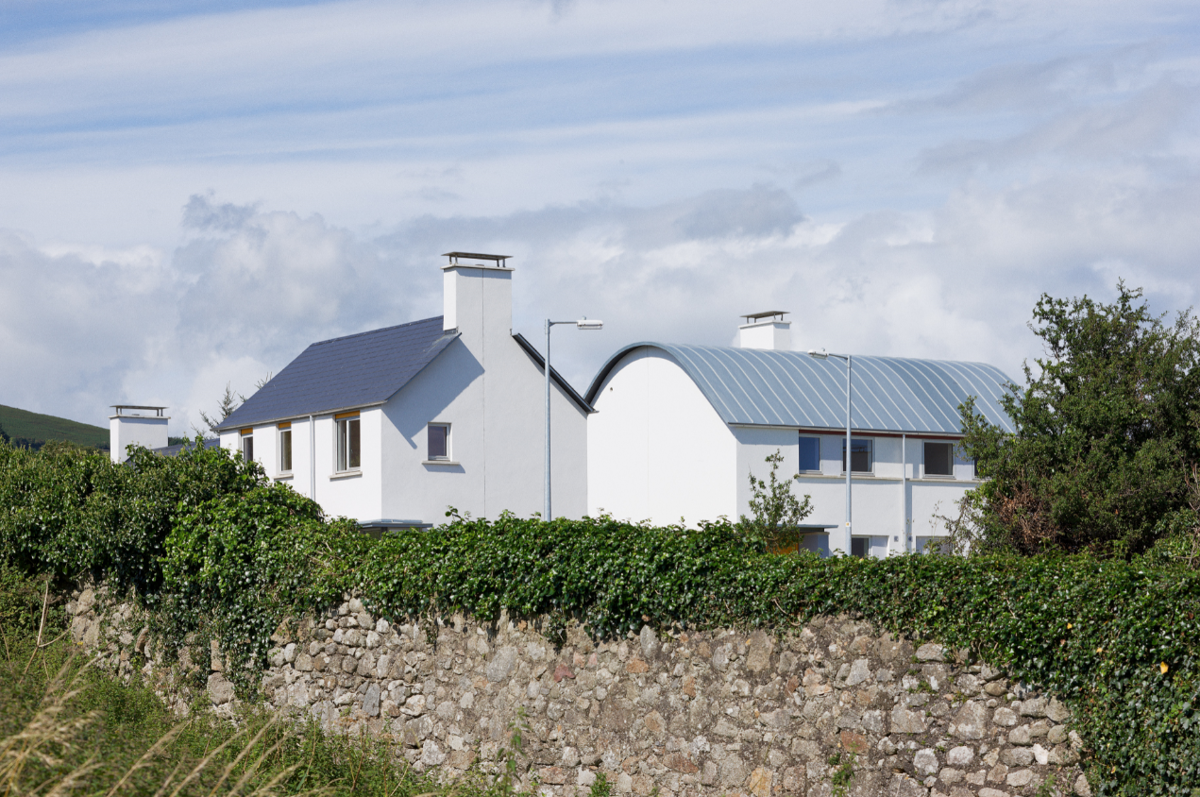 The public open space, so often an amorphous windswept area of grass at the front of a development, is here broken down into several loosely arranged courtyards – characterful play spaces surrounded and overlooked by houses. Windows are judiciously positioned, especially on prominent corners, so that the whole public domain is passively surveilled. There are no blank gables. 'They create unsupervised spaces. That's where anti-social behaviour begins,' says Harrington. 'The window deals with it.'
Six short, slate-roofed terraces, a mixture of two- and single-storey houses run east-west across the site, stepping to follow the contours. The terraced houses are shallow in plan so that no room faces exclusively north. Between and set perpendicular to the terraces are four pairs of semi-detached, deep-plan houses with rooms facing either east or west. The zinc barrel roof forms keep the ridges of deep and shallow plan houses to a similar height.
To support this pared-down modern vernacular aesthetic, galvanised planters (like farmyard troughs) define the front curtilage of each dwelling and bin stores are raw timber. The houses are simply detailed, with untreated aluminium gutters and downpipes.
Small splashes of colour were originally restricted to front doors, thresholds and window heads, using a palette of yellow furze bush, lilac heather, dark green holly, red-brown earth and blue-grey granite, inspired by the local natural colour palette of the Wicklow hills.
Regrettably, if perhaps inevitably several of the residents have over the years personalised their homes to a greater extent with very different colour schemes. 'The overall effect to what was a harmonious whole is disappointing,' says Harrington. Sometimes architecture alone is not enough.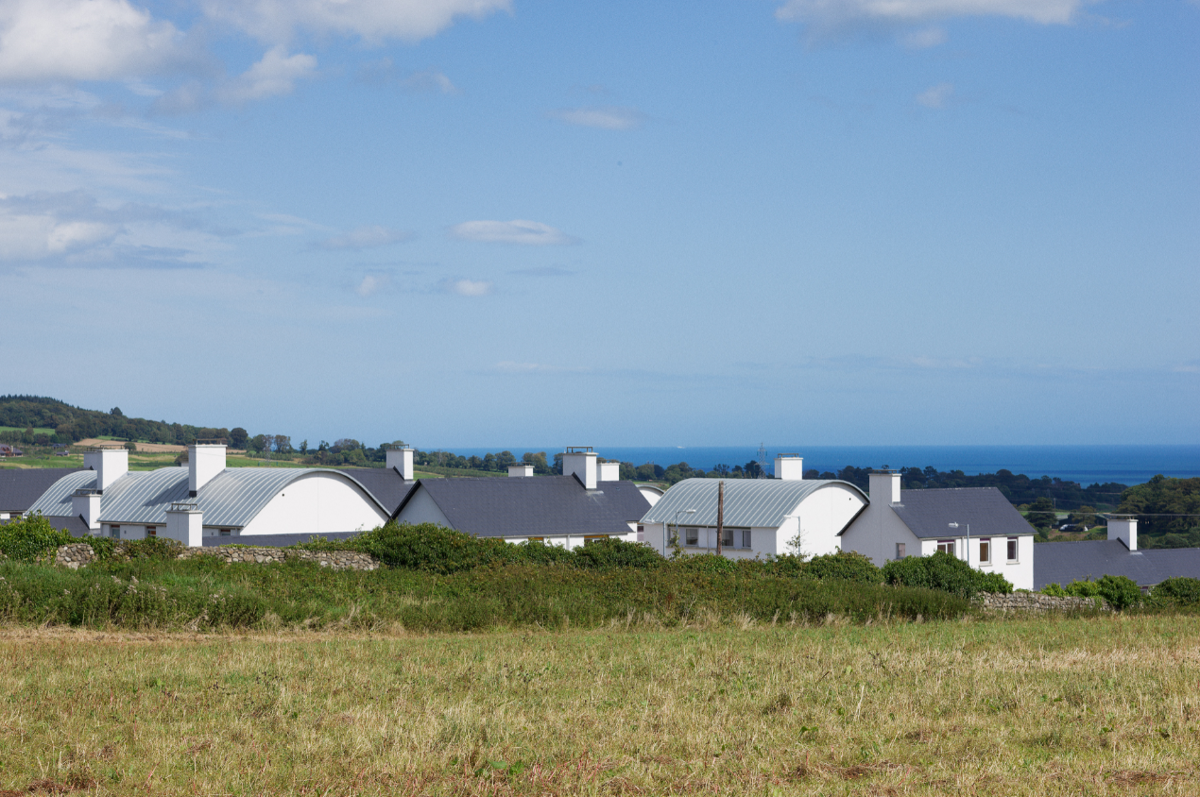 Architect: Seán Harrington Architects (first commissioned to Howley Harrington Architects) 2004 – 2009
Location: Parknasillogue Court, Enniskerry, Co. Wicklow
Photography: Copyright Philip Lauterbach (except Co. Kilkenny farmyard, by Seán Harrington) courtesy of Seán Harrington Architects
Curated: Shane O'Toole
Feeling inspired? You can enjoy more Building of Month articles curated by Shane O'Toole by clicking below.