MOSM Canoe Centre with EQUITONE, finalist Building of the Year 2021
Which buildings inspire the architectural profession most? Every year, ArchDaily searches for Buildings of the Year in 15 categories. The MOSM Canoe Training Centre in Tychy, Poland, featuring EQUITONE [linea] and EQUITONE [pictura] in its facade, is one of 75 finalists.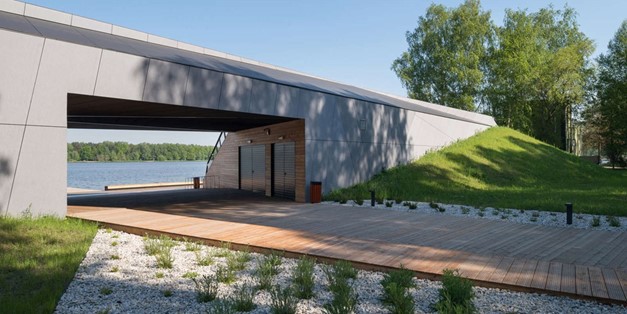 What is the ArchDaily Building of the Year Award?
ArchDaily.com is the world's most visited architecture website, attracting over 13 million readers on a monthly basis. It is THE platform for building-design professionals to find inspiration, relevant news, tools and knowledge. An indispensable place for those who imagine, design and build the world of tomorrow. For the 12th consecutive year, ArchDaily organises the international Building of the Year Awards to reward architectural projects across the world that have a positive impact on the profession. An unbiased network of jurors and peers narrow down the most remarkable projects to 5 finalists in 15 categories. And then the voting opens to the community of architects who will elect the winner in each category.
Photo : Tomasz Zakrzewski – Archifolio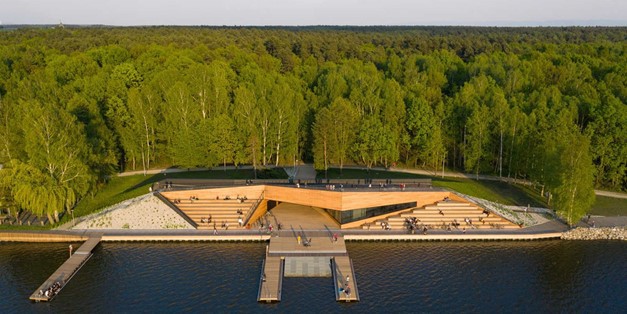 MOSM Canoe Training Center, finalist Sports Building of the Year
Paprocany lake in Tychy, Poland has been the place to be for sailing, water sports and recreation for a long time. Unfortunately, the sports infrastructure was aging and in need of redevelopment. The city decided to build a new sailing marina for the Municipal Youth Sports Center MOSM. The canoe section, once home to double Olympic medallist Karolina Naja, spearheaded the renovation.
The new canoe training centre (2020) by architects RS + Robert Skitek, is nestled behind the promenade along the lake, partly hidden behind wooden seats that double as grandstand during canoeing competitions. The back wall has a modern look thanks to stylish grey EQUITONE [linea] and EQUITONE [pictura] fibre-cement facade panels. The building on the water's edge serves as a launch site, training centre and storage facility for the canoe club, but the seating area has also has become a popular public space on the lake for spectators and visitors to enjoy its beauty. The building is one of the finalists in the category 'sports architecture' of the ArchDaily's Building of the Year 2021 awards. Discover the architectural design in all its beauty and functionality on ArchDaily.com and on Youtube on the architects' website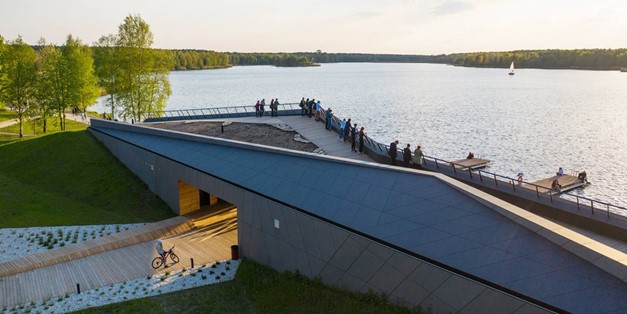 Vote for your favourite Buildings of the Year till 18 February 2021
You can vote on ArchDaily.com for your favourite Building of the Year 2021 in 15 categories. Voting closes on 18 February 2021 midnight Eastern Standard Time (New York), that is 6 AM Central European Time on 19 February 2021 (Paris). May the best ones win! In any case, congratulations to all the architects and builders involved on these exceptional works of architecture. Being chosen as a nominee or finalist by the world-wide community of architects is already an honour in itself and reserved for only the best.
Photo : Tomasz Zakrzewski – Archifolio