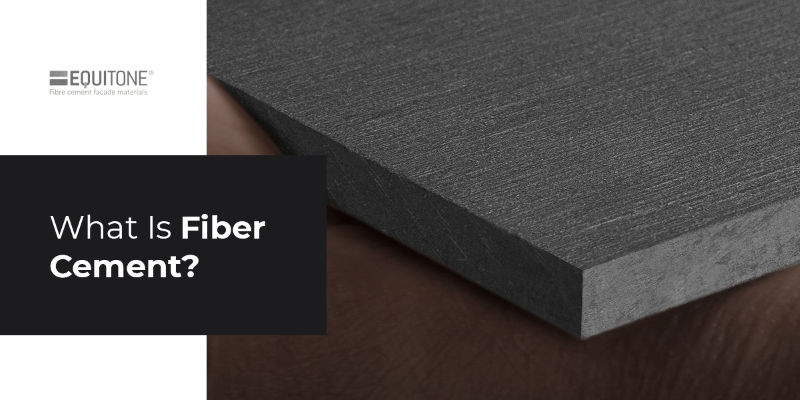 What Is Fiber Cement?
Architects have many decisions to make with building facades, exteriors and cladding. One popular alternative to costly and high-maintenance wood and stone cladding is fiber cement. With new technology to customize the color, texture and design of fiber cement, architects can achieve their style goals while ensuring functionality and long-term affordability.
Fiber cement cladding can be installed in panels designed to mimic natural stone or concrete. With numerous profiles to choose from, architects can use fiber cement cladding to add dimension and elegance to their commercial architectural designs. Fiber cement can withstand the test of time, as it is not susceptible to some of the challenges that other natural siding options face.
This guide to fiber cement will cover the material's benefits and commercial applications. Architects can learn about the advantages of fiber cement cladding and how it can benefit their commercial projects.
What Is Fiber Cement Made Of?
Fiber cement is a type of facade material developed by manufacturers using proprietary material combinations. In general, fiber cement consists of the following elements:
Portland cement: Portland cement is the base material in fiber cement. It binds all the other ingredients together. Cement itself is a mixture of several ingredients, including limestone, chalk, marl, shale, clay, slate, slag, silica and iron. The mixture gets heated at high temperatures, forming a hard, rock-like substance. This substance then gets ground into a loose powder, resulting in the final product — cement powder.
Water: Water is the activating agent that offers two functions. First, it dissolves the cellulose or wood component in the mixture. Secondly, water activates the cement and helps cure it during the drying process.
Fly ash, sand or silica: To help support and strengthen the mixture, manufacturers add in a granular filler to bulk up the material. Fly ash is pulverized coal and is commonly used in fiber cement manufacturing. Other filler substances can include silica or sand.
Wood pulp or cellulose: The final ingredient in fiber cement is a wood or cellulose pulp. The type of cellulose pulp used may depend on the manufacturer. Cellulose is the supportive molecule found in plants. It provides the fiber cement with structure and flexibility so that it is easier to work with and install. Wood pulp also helps the fiber cement maintain durability and resilience, extending its longevity.
EQUITONE materials are made with cement, water, sand, and cellulose fibers.
Learn more about EQUITONE's selection of fiber cement facade materials.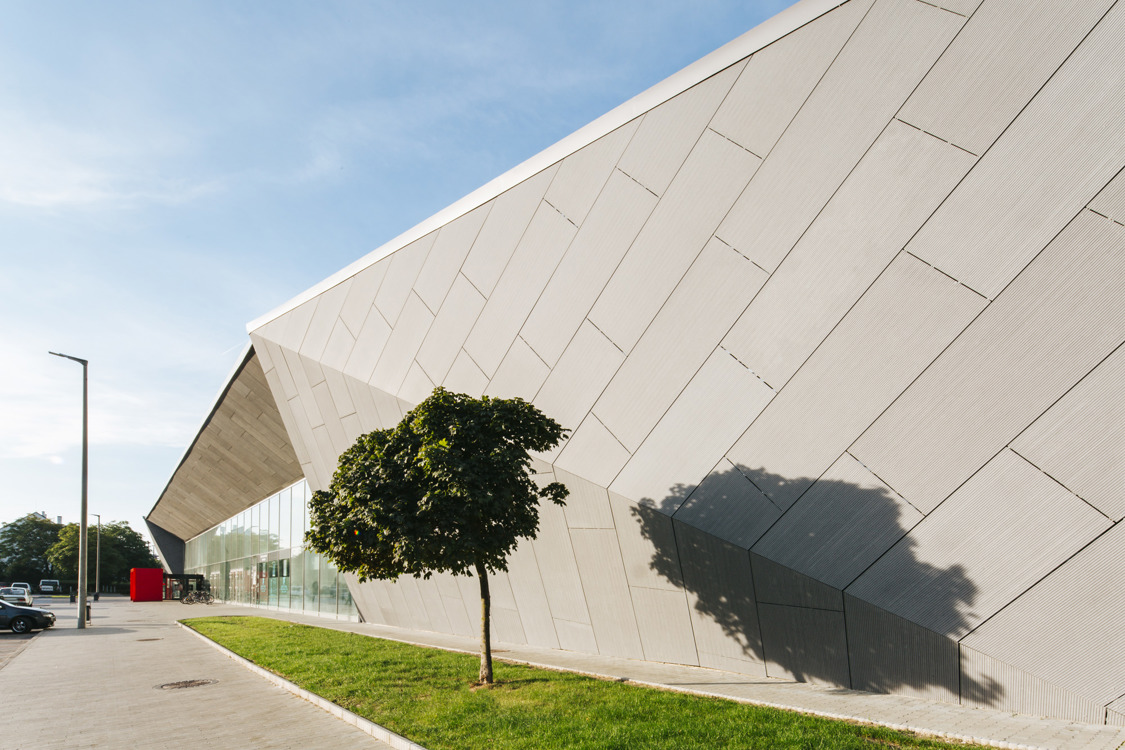 Fiber Cement in Different Climates
One of the biggest factors that architects need to consider when selecting commercial siding for their projects is climate. Various materials perform differently depending on the climate and the common types of weather that buildings are exposed to. Consistently outperforming its counterparts, fiber cement is a favorite material for architects no matter the region. Fiber cement is used all over the world and across a range of climates thanks to its durability, resilience and safety.
Here is an overview of how fiber cement performs in different climates:
Desert: Arid climates prone can benefit from fiber cement-cladded buildings, as they are heat resistant and provide air flow for natural cooling.
Coastal: Regions exposed to coastal weather, including rain, wind and salt, can benefit from fiber cement's durability and resilience to erosion that other materials normally suffer.
Humid: Humid climates with high year-round moisture levels can benefit from the moisture-resistance of fiber cement, particularly its resistance to pests, mold and fungi.
Northern: Northern climates with bitter winters can benefit from fiber cement as it is a material impermeable to the freeze-thaw cycle that expands and cracks other, less dense materials.
Discover how EQUITONE fiber cement materials are used from coast to coast across different climates.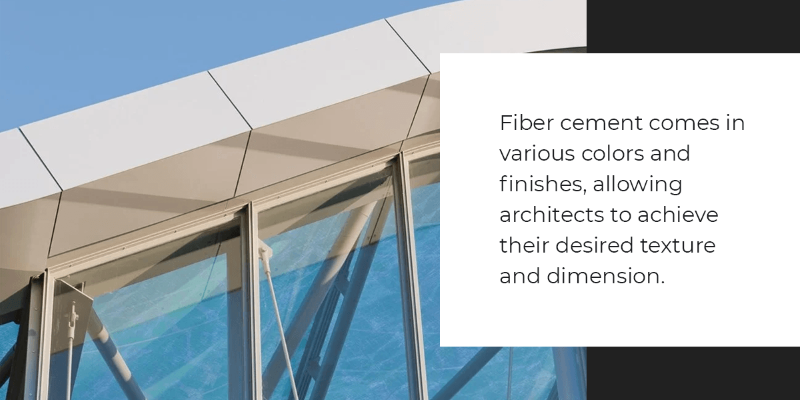 Fiber Cement Finishes and Colors
Just as important as functionality is form, particularly for architects looking to combine performance and polish. Fiber cement offers just as many opportunities for unique design and aesthetics as natural cladding options. Fiber cement comes in various colors and finishes, allowing architects to achieve their desired texture and dimension.
Below are some examples of fiber cement finishes and colors to choose from:
Browse EQUITONE's portfolio of spotlight projects and get inspired by the range of finishes, colors and combinations available with fiber cement facades.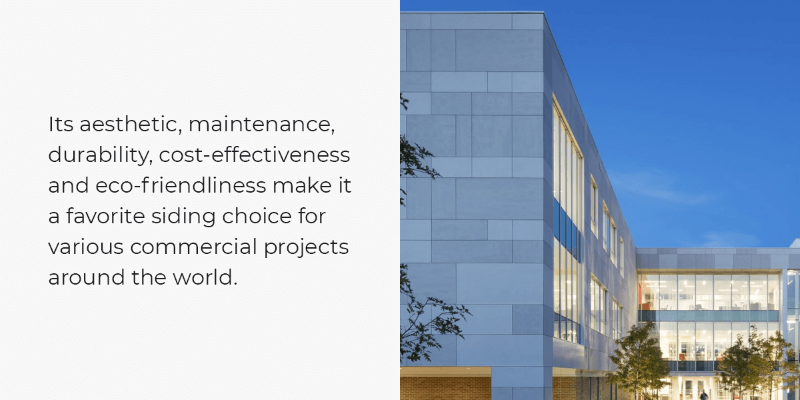 Fiber Cement Facades for Commercial Buildings
In addition to being used across a range of climates, fiber cement facades are also suitable within numerous commercial applications. Its aesthetic, maintenance, durability, cost-effectiveness and eco-friendliness make it a favorite siding choice for various commercial projects around the world.
Below are some examples of the types of commercial projects that use fiber cement panels and why:
Schools: Whether it is public schools or private, K-12 or higher education, learning institutions need cost-effective, low-maintenance building supplies that also look professional and polished. Fiber cement cladding helps schools meet their budgets both in installation and reduced maintenance costs. Additionally, fiber cement helps ensure building envelopes are more protective, which reduces energy costs and helps institutions meet their sustainability goals.
Hospitals: Like educational institutes, hospitals also need durable and cost-effective building supplies that also offer aesthetic appeal. Hospitals have a unique requirement above most commercial buildings, which is that they need to meet specific safety standards. Its flexibility across climates also makes fiber cement a great siding option for hospitals across the country.
Office buildings: Office buildings that use fiber cement siding can express a timeless, unique design and style and make a statement in the urban skyline. Fiber cement siding is also a smart business investment due to its weather resistance, energy efficiency and durability, which will ensure it lasts decades.
Theatres and concert halls: The arts and culture scene is the heart of any vibrant city, and theatres and concert halls should reflect the community. Fiber cement facades bring a theatre or concert hall to life, providing a way to add depth and architectural elements that make the build stand out.
Conference centers and pavilions: Conference centers and pavilions bring together people from all over the world, so these buildings should reflect a universal appeal. Fiber cement siding for conference centers and pavilions is durable and clean, giving architects the perfect canvas to make a facility's design stand out.
Retail buildings: High-traffic buildings like retail centers need sleek and stylish exterior finishes to attract customers and create a prosperous energy. Fiber cement is a versatile material that offers insulation, weather resistance and durability for better performance and a longer life cycle.
Learn more about installing EQUITONE's fiber cement panels across a range of commercial applications.
Fiber Cement Versatility
Fiber cement is a preferred facade material due to its various applications and uses in architectural design. Its design versatility means architects can carefully select the precise styles they want in order to achieve their design goals.
Below are some examples of the different ways to arrange and apply fiber cement panels for design flexibility:
Panel layout: Architects can have fiber cement panels cut and arranged in unlimited geometric shapes, from vertical to horizontal to angular layouts. Panels can be arranged in scattered or consistent patterns depending on the style.
Perforations: Have different shapes cut through the fiber cement panels to create more intrigue. From round holes, slots and squares to rectangles, there are unlimited options for architects.
Curved walls: Architects can design with more than right angles. Fiber cement panels are flat but can be arranged to form a gently curved exterior facade.
Shiplap pattern: Create a 3D-like design with a shiplap pattern using horizontal fiber cement panels. The shiplap pattern creates multiple layers of staggered panels, all in a parallel arrangement.
Discover more special applications architects choose when using EQUITONE fiber cement facade materials.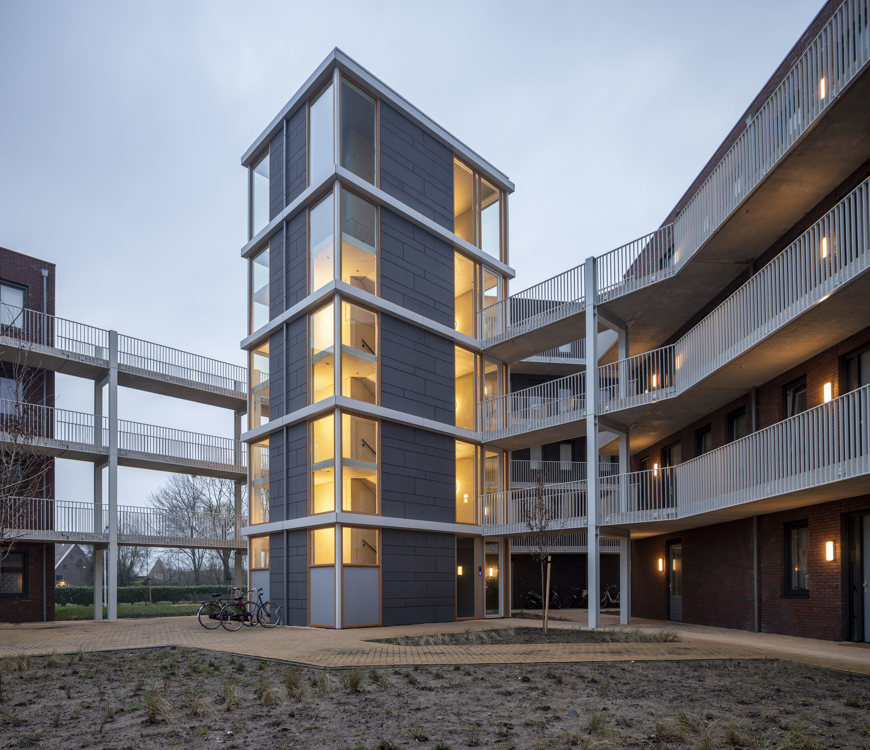 Why Choose EQUITONE Cement Fiber Panels?
For high-performing and durable fiber cement facade panels, choose EQUITONE. With their versatility, EQUITONE materials are designed for high-end commercial buildings, from school to office facilities to healthcare institutions. EQUITONE lightweight fiber cement panels come in various textures and colors and can be arranged in numerous shapes and layouts. Turn any structure into an art installation with EQUITONE fiber cement materials.
EQUITONE manufactures high-density and durable fiber cement panels that provide through-color on most materials. This quality increases the already low-maintenance properties of fiber cement and ensures the design integrity will last for decades. The EQUITONE installation process allows the fiber cement panels to be installed as a ventilated rainscreen, which creates cavities that improve temperature regulation.
Contact us today to learn more about EQUITONE and the design and functionality benefits of fiber cement for architects. Request a sample and discover all the advantages of EQUITONE fiber cement facade panels.